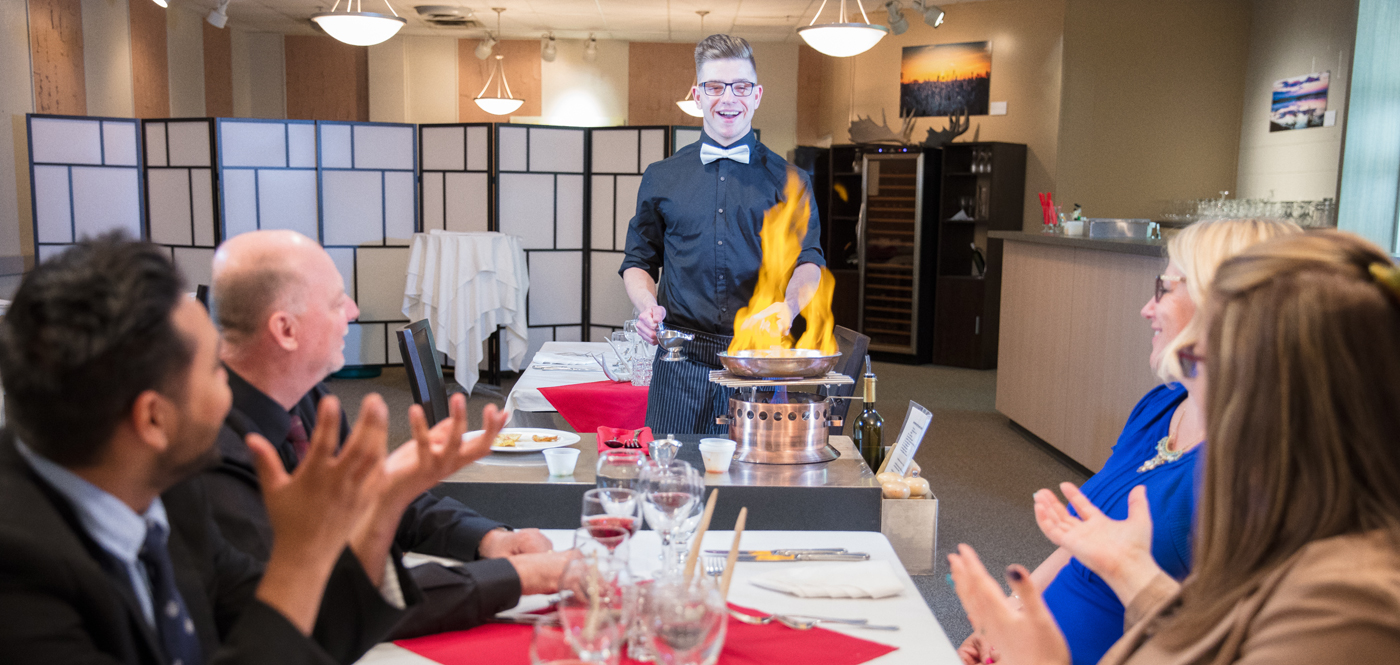 Wine and Dine 2017
Our second year students along with instructor Chef Instructor Rick Cole and instructor Sheldene Matyczuk look forward to reopening Wine and Dine in the Corner Café, our licensed dining room in the Saskatoon campus on Idylwyld Drive in May 2018.
Opening dates are: Monday - Friday May 3 - 18, 22, and their final night of May 23, which is a buffet.
Reservations are accepted via email only at wineanddine@saskpolytech.ca beginning March 1.

Our students create a new menu each year as part of their curriculum; it's under construction and will be posted in March. The menu below from last year will give you an idea what to expect in this formal full service fine dining room which is open to the public.
Appetizer
Smoked Meatballs $9
Meatballs with a maple glaze and bannock
Montreal Yorkie $9
Mini Yorkshires with Montreal style meat and mustard
(V) Beet and Ricotta Ravioli $9
Ravioli served with butter poppy seed sauce
(GF) Shrimp Caesar Flambé $9
With tomato concase, asparagus and dill pickle vodka
Soup
9 Mile Chowder $6
Beer bacon and cheddar chowder
(V) (GF) Three Sisters $6
Corn, squash and beans in a vegetable broth
Salad
(V) Kale and Quinoa Salad $8
Kale, quinoa, tomato, feta and toasted pine nuts
(V) Wild Berry Salad $9
Spinach, fresh berries, candied pecans and chevre cheese
(V) Roasted Corn Wedge Salad $8
Corn, peppercorn bacon and blue cheese dressing
Entrée
Bunny Hug $23
Rabbit wellington with mushrooms and bacon jam
Sour Cherry Rib Eye $24
8oz ribeye with sour cherry BBQ sauce
East Coast Linguini $19
With mussels, and roasted tomato and fennel sauce
(GF) Coast to Coast Salmon $22
Maple chipotle pacific salmon with Atlantic screech and hascap compote
(GF) Curried Lamb Shank $23
Braised lamb shank with apple Rhubarb compote
Wild Rice Stuffed Chicken $21
Wild rice, meadow mushrooms and cranberry demi glaze
(V) Harvest Spaghetti $19
Zucchini spaghetti, vegetarian meatballs, and tomato sauce
All prices include applicable taxes
Vegetarian (V)
Gluten Free (GF)
Beverages
White Wine
6oz/9oz/Bottle
30 Bench -Riesling
$8 $11 $28
Sumac Ridge -Gewurztraminer
$7 $10 $25
Sandhill -Pinot Gris
$7 $10 $26
Wayne Gretzky -Chardonnay
$7 $10 $26
Mission Hill -Rose
$7 $10 $25
Hidden Bench Estate -Chardonnay
By the bottle only $39
Red Wine
6oz/9oz/Bottle
Henry of Pelham -Baco Noir
$7 $10 $24
Gray Monk -Pinot Noir
$8 $11 $35
Jackson Triggs -Cabernet Sauvignon
$7 $10 $20
Burrowing Owl -Cabernet Sauvignon
$8 $11 $33
Sandhill -Merlot
$8 $11 $36
Mount Boucherie -Meritage
By bottle only $50
Nk'mip -Merlot
By bottle only $36
Orofino -Syrah
By bottle only $42
Cocktails $7
Classic Canadian Caesar
Dill or regular vodka, tabasco, Worcestershire, clamato, celery stick, bacon, steak spice.
The Bautista
Blue Curacao, peach schnapps, citrus vodka, sprite.
Rider Pride
Mint, soda water, simple syr-up, watermelon vodka, cucumber.
Double Double
Canadian Club, Bailey's, Kaluha, cream
Canada 150
Jim Beam, simple syrup, black walnut bitters, orange peel.
Labour Day Classic
Non-alcoholic
Mint, blueberries, lime juice, simple syrup, soda.
Beer
Domestic $5
Canadian
Original 16
Pilsner
Big Rock Traditional Ale
Import $6
Corona
Heineken
Premium Liquor $7
Grey Goose Vodka
Appleton Rum
Crown Royal
Glen Fiddich
Bombay Sapphire
Tanqueray
Desserts
White Chocolate Cheesecake $7
White chocolate cheesecake, with raspberry coulis and fresh fruit
The Trio $8
Maple carrot spice, matrimonial cookie, sugar pie and fresh fruit
Saskatoon Berry Pierogis $9
Flambéed with Saskatoon berry liqueur, with house made ice cream and caramel sauce
Nanaimo $6
Nanaimo crust white chocolate mousse, chocolate ribbon, fresh fruit
After Dinner Drinks $6
Blueberry Tea
Grand Marnier, Amaretto, and tea
Spanish Coffee
Brandy, Kahlua, coffee and whipped cream
Irish Coffee
Irish Whiskey, Kahlua, coffee and whipped cream
Cognacs
Courvoisier US
Remy Martin USOP
Port
Grahams 20 Year Tawny Port
Liqueurs
Baileys
Kahlua
Grand Marnier
Amaretto
Drambuie
Frangelico
Hungarian Golden Pear Brandy
Stoli Chocolate Raspberry Vodka
Mission Statement
The mission statement of the class of 2016/17 is to promote the value of learning, self-worth, and quality performance among students while we transition into management in the Hotel & Restaurant Management industry.
We aim to create a Canadian Restaurant that is comprehensive and exceptional in its attention to detail. We put passion into everything we do and we hope you enjoy.
Thank you for helping us and supporting us to achieve our goals.